Orchard Park Community Activity Center
Making Life Better for You and Your Family
Building a Healthier Community for a Greater Future
Construction of our new Orchard Park Community Activity Center in Brush Mountain Park is well underway.
With projected increases in our senior and youth populations for decades to come, the concept of a community activity center for Orchard Park was first proposed ten years ago. The idea is to combine all of Orchard Park's recreation departments and activities into one complex. Doing so will not only address a growing list of deficiencies but will create greater efficiencies of service.
This facility will serve as the new home for the Orchard Park Senior Center and the Recreation Department for Orchard Park's youth. It also offers space for special events, classes, and community presentations for all residents. The Community Activity Center will improve the quality of life for all residents by offering social and recreational activities in a single, comprehensive, and innovative facility that will continually serve generations well into the future.
A central location, ample parking, and long-term cost savings — an idea whose time has come.
There are no upcoming events.
Join Our Capital Campaign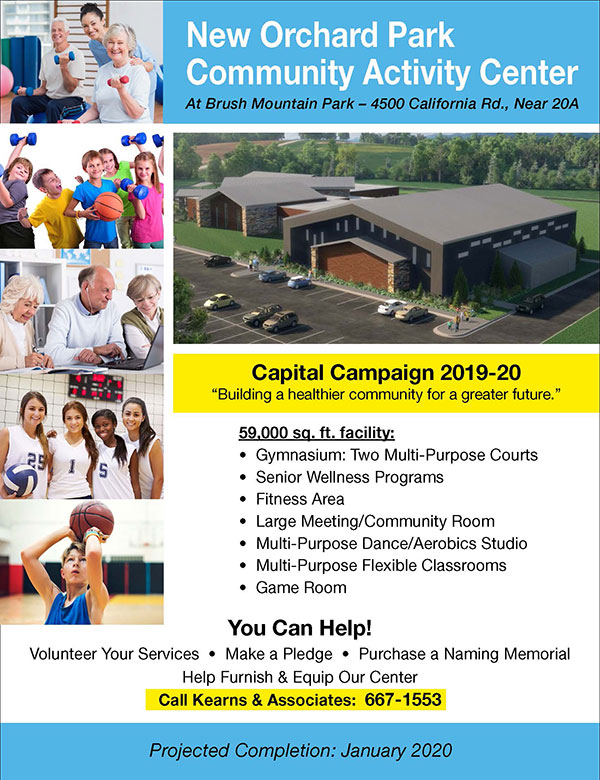 Orchard Park Community Activity Center at Brush Mountain Park
The Community Activity Council of Orchard Park, Inc., was formed by a cross-section of groups representing every generation in the community. This nonprofit organization's goal is to raise funds to complete the construction of the new activities center, as well as the necessary equipment and furniture for recreational and athletic activities for our youth, seniors and everyone in between.